Website of Yvonne Janssen
Yvonne's Guestbook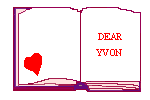 Here are the people that signed my guestbook and gave their comments.
Every message is moderated, before it is published.
Messages containing spam will not appear.
Move to the bottom of this page if you want to sign the guestbook yourself.

This guestbook started on July 31, 1999



Benjamin
November 26, 2014 at 16:38

Leuk om te lezen Yvonne! Benjaminbenberg@gmail.com

Frank Rizzo
November 24, 2014 at 20:29
Nice site, please keep up the good work! frank.rizzo2007@yahoo.ca

JoAnn Donald
March 22, 2013 at 00:48
I really enjoy this site, thank-you!

Alice Herla
February 6, 2013 at 19:53
Terrific site! sigman.john@gmail.com Alice Herla
CSS Myrten
November 25, 1999 at 08:24
This is to officially invite you to join Cafe Sister Society Webring! Cafe Sister Society is a women's webring created for women webmasters to help eachother and share eachothers problems and joys of life. A cafe is a great place where friends & family meet for good times, relaxation, sharing and caring. This is the theme for Cafe Sister Society. We would be honoured if you would visit us and consider joining your interesting and well made site to our sister ring. Please click on the link to visit our home!
Css NitePearl
November 26, 1999 at 23:04
((((Css Yvonne)))) A warm welcome to CSS! *smiles* Your site is lovely....I feel right at home here! *smiles* Please accept my gift to you! Luv & light, Css NitePearl~Css Webmistress.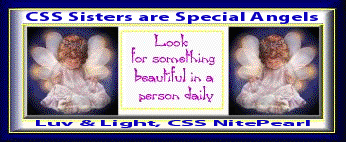 Brisa
November 26, 1999 at 23:55 I'm also VERY new to The cafe but welcome! ILoved my visit :) Come see me sometime :)

CSS Myrten
November 27, 1999 at 00:58
Welcome to CSS! :) I am so glad you are a member of this great group. I am the coordinator for our photo exchange, so if you would like to share your photo with us you can send it to me as an attachment and I will add it to our photo album. *welcome hug*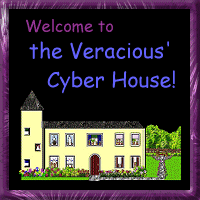 CSS PeaceFaery
November 27, 1999 at 02:02
Welcome to CSS, so glad to have you with us!! ~Welcome Hugz~


CSS ~Sandee~
November 27, 1999 at 04:19
Welcome to our Happy CSS family!!!

Scarlett
November 27, 1999 at 06:38
Hello, Yvonne, Welcome to CSS. I, too, am a new member, still feeling my way along. LOL It's my first! I looked at Web Rings for over a year then NitePearl found me! Take care of you and I hope you enjoy CSS.
Marcia
Sassy
November 28, 1999 at 02:49
Hi Yvonne...Welcome to CSS...My daughter was in the Netherland's this past Easter...She was in the Easter Parade there. Hope to know you better...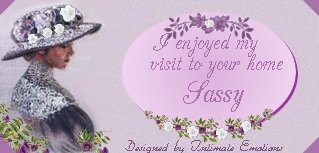 SheCat
November 28, 1999 at 23:12

Hi there:):):) I see you have your "eye" upon us, hehehehehehe. Nice pages:):):) I wanted to stop by and welcome you to CSS. I know you will enjoy being a member as it is a very laid back ring:):):) Welcome:):) SheCat:):):)
Jennifer
November 29, 1999 at 04:00
Welcome to our group. You will really enjoy this kindhearted bunch. I am logo coordinator. Once you choose a logo, let me know and I will personalize it for you! Again...welcome!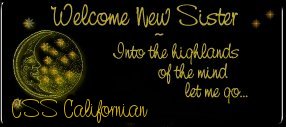 Nigel Andrews
November 30, 1999 at 19:42
Nice site. Did you enjoy the experience of assembling it?
John Marshall
December 1, 1999 at 10:37
Yvonne - well done! I myself am a newcomber to the world of HTML. This time last year I didn't know the difference between HMTL and UNCR. Do now. Used "Paul McFedries complete Idiot's Guide - Creating an HMTL 4 Web Page" Our youngest doughter wrote (composed) the REX pages. Our site is more functional without to much artistic fleur. Look us up and tell what you think! John Marshall Sydney
Stormi
December 7, 1999 at 00:45
Very interesting page and I must say that I think the picture of your garden area looks beautiful. If only I could create one so lovely. :) Really enjoyed learning about you and looking at the maps. Happy holidays to you and yours.


Bjornar
December 9, 1999 at 10:23
Hi Yvon! Enjoyed my stay here.
Rhys
December 20, 1999 at 01:39
You've done a fantastic Job and Lots of work went into this page. Wonderful information for everyone..Thanks. You should be very proud!! Great Page. Please feel free to drop by and visit my Home Page some time.........

Gianna
December 21, 1999 at 12:25
Hello Yvonne .....it was so nice browsing around your site. Love the story about the bird. Keep trying with your garden cause your efforts will be great at the end! Happy Holidays ...and all the best
David
December 31, 1999 at 18:36
Pretty Nice Homepage... Greetings from Mexico... and happy New Year!!!
Franz Sommeregger
January 1, 1999 at 13:41
Hello Yvonne.
You made nice homepage here.
Cordial greetings from South Tyrol.
Franz.


martin
January 2, 1999 at 22:58
Great site. Well done!!
This site is truly great. Feel free to visit my site: (and DO sign the guestbook, please)

Greetings from the Netherlands, home of the tulips, windmills, wooden shoes and some more stereotypes ;o)
MARTIN
maria
January 11, 2000 at 18:41
hallo groetjes uit belgie toffe site
wim wiegerinck
January 12, 2000 at 14:17
Hallo Yvonne,
Thom heeft me je home pagina laten zien. Mooi hoor!
Groeten, Wim
Teresa
January 16, 2000 at 21:29
Sorry, I am little late getting over to view your website and to say -- Welcome to CSS! I love the living room on your enter page! I had a very nice visit...thank you!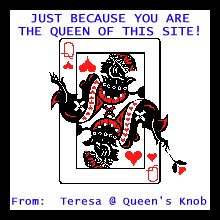 George
January 25, 2000 at 22:08
Hi: Yvonne What a wonderful site to visit. I enjoyed my stay and will come back. Keep up the good work. Come visit my humbe site and if you will sign my dreambook. God Bless George. Frome Penna, USA
Pat & Moe
January 30, 2000 at 21:41
Hi! We enjoyed the visit and meeting you. You have a good looking Page. Keep up the good work. Have a great day! Come visit us at Pat & Moe's Place. It was designed to allow our family in SC to stay in touch with my sister, her six children and their families in New England.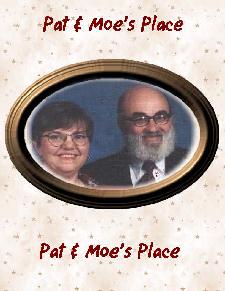 Love doesn't make the world go 'round. Love is what makes the ride worthwhile. Franklin P. Jones
Cinna
June 23, 2000 at 18:02
Greetings from Michigan. Love your home pages, so creative and informative. Can't wait to learn how to construct such. I found it strange the snow thaw from the Alps runs north so you are also an educator. Thanks for sharing.
jan
June 25, 2000 at 10:54
hallo Yvonne, ik vond het leuk je homepage te bezoeken. gemeenschappelijke zaken zijn law en kennelijk ook primitief kamperen. een zoon van mij studeert in Nijmegen. bekijk eens de straatvoorstellingen van de jongleergroep KNOTSGEK
Flo
July 2, 2000 at 03:46
What a great site you have here, really had a great visit, I see all the work you done and it shows, looks great...keep up this great work....**FLO**

sarah griffiths
March 19, 2001 at 12:05
lovely website but how about the real tweety
Roz Bradburn
March 29, 2001 at 17:52
Love the website!
Danielle
April 8, 2001 at 21:58
Wher can i get twety pie wallapapers from
Torz
April 26, 2001 at 20:38
your website is cool!
Hanneke Oostendorp
May 17, 2001 at 00:06
Hoi Yvonne!
Hier een berichtje van je nichtje uit Nieuw Buinen, inmiddels in Groningen (al twee jaar). Hoe gaat het met je? Al een poos niet meer gezien he! Jullie wonen nog steeds in Nijmegen. Ik ben laatst nog in Nijmegen geweest, het blijft een leuke stad! Eigenlijk heb ik niet zoveel te zeggen. Ik ben op deze site gekomen toen ik via via op Thom's homepage kwam. Groetjes Hanneke Oostendorp en wie weet tot mails!
Pierino & Thea
September 7, 2001 at 19:20
Mooi!!
Jess
January 28, 2002 at 20:58
Hiya your site is ace good luck with it!:)
Yvonne
June 5, 2002 at 23:29
Je kent me niet maar ja we hebben wel dezelfde naam, dat is ook niet zo gek met ongeveer de meest voorkomende voor en achternaam van Nederland. Groetjes van je naamgenoot.......Yvonne J. Janssen
your secret lover
June 11, 2002 at 10:11
Hello Yvonne,
I love you!
Goaitsen van der Vliet
August 13, 2002 at 18:14
Leuk om 'Heftan tattat' hier tegen te komen. Als uitgever van Wilminks boekje 'Heftan tattat' vind ik het jammer dat je de bron (titel, auteur, uitgever, plaat, jaartal, eventueel ISBN) niet hebt vermeld. Dat lijkt me wel gewenst, ook omdat je geen toestemming voor publicatie hebt gevraagd. Je vertaling vind ik overigens weinig recht doen aan het origineel. Dat moet toch beter kunnen! Met groet, Goaitsen van der Vliet
William Livingstone
August 21, 2002 at 22:26
Hi Yvonne, Just surfing re info on Nijmegen marches. Ur site looks good! Greetings, William Livingstone. Weesp Netherlands.
Benny
September 7, 2002 at 16:32
Dear Yvone your website is very nice and interesting. Warms greeting from Biak - Papua Indonesia. And please talk to friends who likes adventures could visit my site.
Tks
Floyd
October 24, 2002 at 21:45
I like your site!
Juice Plus
lisa jane aitchison
November 7, 2002 at 13:36
ILOVE YOUR SITE ITS THE BEST YOUR THE BEST LOVE YOU LOADS LISA XOX XOX XOX TWEETY PIE IS THE BEST TOO XOX XOX XOX
LISA MARIE
November 7, 2002 at 13:42
HIYA TWEETY PIE LOVERS OUT THERE XXX
Jens
November 25, 2002 at 13:00
Grrrrrrrrrrrrrrrreat site! Yvonne you rule!
tess
December 5, 2002 at 20:35
heey sinterklaas how are you i m tess i'm from belgium ik spreek nederlands dus hoe gaat het ermee kunt gij ook dieren geven?? mooie website
Michaela
January 3, 2003 at 16:51
Good looking Page, I wish I could do something like this...
Michaela
January 17, 2003 at 12:44
Good work on this one, just added it to my bookmarks ;)
Henry
January 20, 2003 at 15:44
Hallo! Sehr gute Seite, wirklich schon gemacht, das Design ist echt toll! Ich habe sie gleich zu meinen Favoriten hinzugefugt :)
Henry
January 20, 2003 at 16:51
Hiya! Great site, really nice work, and good design! Keep it up, dude!
Lindsay
January 20, 2003 at 21:04
I like the site and love tweety pie!!!!
susi
January 22, 2003 at 11:27
sweet kisses

Yvonne Janssen
February 19, 2003 at 16:02
Just wanted to say Hello, great site. I was born in 's Hertogenbosch in 1952 but am living in Canada now. It was nice to see my name in print!
Julia
March 27, 2003 at 17:24
Ein frohliches Hallo an alle. Ich bin grade so am surfen, da treff ich doch auf die Seite hier, und ich war echt uberrascht. Nettes Design tolle Inhalte, halt alles was auf eine anstandige Homepage gehort. Also Respekt. Ich surfe mal weiter vielleicht komm ich ja noch mal vorbei. Liebe GrussŸe aus dem schonen Wien.
Claudia
April 25, 2003 at 14:41
Greetings from Germany, this is really a nice site.
Simon Says
May 8, 2003 at 12:54
Hi,I just came to your page by chance. It looks really great! I'll come back to see your updates.
cya folks!
elma verhey
June 30, 2003 at 01:55
Dag Yvonne,
Terwijl ik zoek naar informatie over ambassadeurs in Nederland kom ik potdorie een verwijzing tegen naar mijn eigen artikel in Vrij Nederland van tig jaren geleden! Wat leuk! En al zeg ik het zelf; die foto op de cover destijds is/blijft steengoed. Toch? Overigens ben ik het met je eens: geen mooier gebied dan de streek rond Nijmegen. Maar daar kom ik dan ook zelf vandaan..
Hartelijks, Elma Verhey
mugu Marita
August 8, 2003 at 15:39
Hallo wirklich nette Seite hier!
Jim (USA)
September 12, 2003 at 03:15
Hi Yvonne,
I clicked on your site while doing a search for Dutch surname meanings (translations). I have a friend from the Netherlands (now living in New York), and thought it would be fun!
Love the site! Found it very interesting. Thanks for your effort.
Have a nice day. :)
BTW, my friend's name is also YVONNE!
Jim

hansi
October 14, 2003 at 11:05
nette seite
janni
October 14, 2003 at 11:06
weiter so leute
Jule
February 17, 2004 at 11:40
Thank you, I just wanted to give a greeting and tell you I like your website.

YvOnNe
March 5, 2004 at 20:34
hAaAaY...KeWl FiSh...! GrOetjuwHS YvoNnE XxXxXjAhz

Kevin
March 19, 2004 at 09:47
Lovely site...It is always interesting to see projects from other guys in other countries. Keep up the excellent work!
abbie
October 8, 2004 at 17:11
hi i thought ur website was cool but it wasnt very useful!!!
Shirley
July 16, 2005 at 12:33
Nice site!!
sarah
January 30, 2006 at 16:02
i think u all are gay
thea barhorst
February 16, 2006 at 13:13
Hallo Yvonne, Op zoek naar Thom's email adres kwam ik jouw website tegen. Ik vind die stukjes geschiedenis die je erin hebt staan erg leuk. Ik heb tegenwoordig donderdags vrij en we hebben nu ook adsl waardoor ik meer tijd heb en kan ik gemakkelijker op internet om wat rond te snuffelen
Groeten Thea
NokiyaUp
October 3, 2006 at 11:32
I think that there is no necessity to make heavy weather of describing how nice your site is! Everyone can find here all he or she need!

NickySS
December 24, 2006 at 20:27
Hi!
Nice info, big thx.
greetingsfrompoland
March 6, 2009 at 02:30
Hello to all ! Greetings From Poland. very Good Page !
Hannza
May 18, 2009 at 22:50
Hi! It was so nice browsing around your site. Love the story about the bird. Keep trying with your garden cause your efforts will be great at the end!
Eric
September 16, 2009 at 16:15
Hi Yvonne,

Just stumbled across your page. I really liked your page about Sinterklaas. Very interesting :)
Nicole
December 2, 2009 at 18:31
Hoi Yvonne,

Ik kwam je site net tegen terwijl ik op zoek was naar sinterklaas goed voor mijn kinderen. Ik woon in Amerika dus het is af en toe best moeilijk om pepernoten en dergelijke te vinden. De reden waarom ik op je site klikte is omdat ik Wezenhof zag staan. Daar ben ik opgegroeid!! Ik neem aan dat je in de Wezenhof in Nijmegen woont. Ik probeerde op het tekeningetje van je huis te klicken maar kwam er niet helemaal achter waar je woont. Ik woonde tijdens mijn lagere en middelbare school tijd in de 29ste straat.
Groetjes Nicole Derr
Dutchgirl
December 3, 2009 at 06:51
Hoi Yvonne,

Je pagina op Sinterklaas is heel behulpzaam.

Bedankt!

Dutchgirl
Elizabeth
September 15, 2010 at 21:40
So nice to see so many people from all over the world connecting trought the internet.
Keep it up!
crymnZom
October 15, 2010 at 06:27
You certainly deserve a round of applause for your post and more specifically, your blog in general. Very high quality material

Petra
April 21, 2011 at 18:26
I really enjoyed your blog, great job !
Johns Baker
May 7, 2011 at 15:50
Very interesting
XRumerTest
February 12, 2012 at 17:58
Hello. And Bye.
Alex van Dooren
October 16, 2012 at 08:49
Erg leuk alle reacties hier... Doet mij weer denken aan de goede oude start van internet! LEUK!
Waibhav Tembe
November 19, 1999 at 05:09
Very nicely designed webpage. Wish u make better choice of background colors.
Some pictures are really wonderful. Keep it up !
Alan Jackson
September 16, 1999 at 03:31
Hello Yvonne Thanks for your kind comments about my site, and please feel free to steal anything from it lol.
I liked your website too, its nice and friendly, and II particularly liked the maps...I might use that idea myself, so if you see this on my website one day you'll know I got the idea from you.
Alan Jackson
The Veracious (Sofia)
September 13, 1999 at 18:03
Hi! :) Thank you for signing my guestbook and for your kind words about my site. :) I made the house images on my front page myself, and much of the other graphics in my site too. I am really glad you liked it. :) I really like your site, it is very warm, and easy to navigate. I'll be back to check on updates!
Paul E. Pennebaker
August 27, 1999 at 16:29
Thanks for the e-mail contact.
Thea Barhorst
August 22, 1999 at 21:14
Hallo Yvonne,
Ik heb je homegage doorgekeken. Je hebt er leuke foto"s in staan. En ik zag dat je de toegang naar een kookboek hebt als ik eens niet weet wat ik wil maken kan ik daar wel eens gebruik van maken.
Groetjes ook aan Thom
Thea
Michael Brideson
August 17, 1999 at 08:38
Hi Yvonne,
I've just had a look through your homepage and couldn't find any pictures of the lovebird(s?) that you had. Has Tweety has taken over the roost?
And are those the same fish I fed when you were living in Zwanenveld - I can't recognise them.
Good luck with the rest of the homepage construction! groetjes Michael
marjan admiraal
August 13, 1999 at 15:23
hoi Yvonne,
Je pagina is best mooi hoor, alleen vind ik hem wel een BEETJE te roze! groetjes, Marjan
P.S. zo, heb jij ook eens wat in je guest book
| | |
| --- | --- |
| | Sign Yvonne's guest book |

©1999-2020 Weezenhof.com Webdesign E-mail